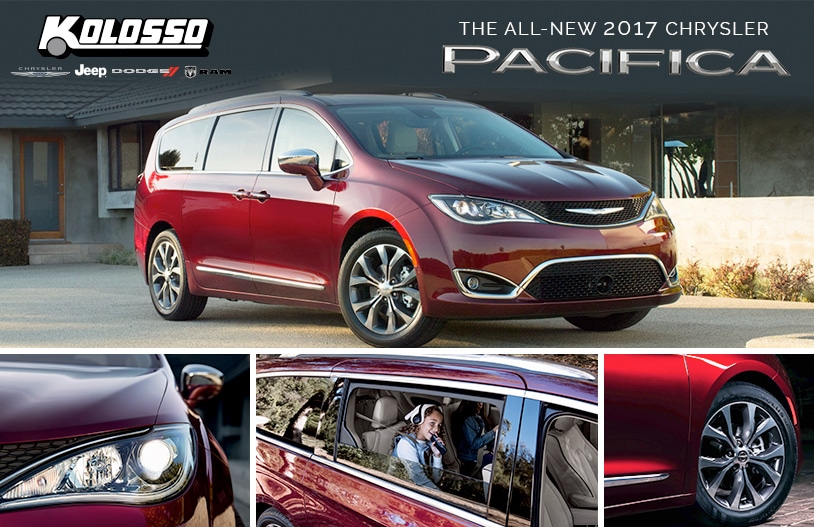 For Appleton's best deal on the all new 2017 Pacifica... 
Look no further than Kolosso Chrysler Dodge Jeep RAM!
The all new Chrysler Pacifica is rolling into Appleton this summer, and we've got the scoop on this minivan turned crossover taking over the roads in America. 
Chrysler is ditching the minivan stigma and moving into the crossover realm of camping trips, soccer games, and grocery trips without the expense of your dignity. You no longer have to park in the back of the lot. 
Introducing the 2017 Chrysler Pacifica. 
This new model comes equipped with a very sleek and modern look, cruising on an all-new FWD platform and two available powertrains; 3.6L Pentastar V6 for 287 hp and 262 lb-ft torque with a 9 speed automatic transmission controlled with a dial shifter on the console. The second option is a V6 but tuned to 248 hp and 230 lb-ft of torque, paired with a lithium-ion battery for 30 miles of electric range. That's right- the Chrysler Pacifica has the most horsepower and torque in it's class. 
This new automotive species can seat up to 8 people, has the option for a built-in vacuum cleaner and has a range of standard and optional safety features like: Adaptive Cruise Control, Collision Warning, surrounding view camera, and parking assist. The 2017 Chrysler Pacifica has the space of a minivan and a fuel economy of a hybrid. Outperforming the Town & Country and it's competitors, the Chrysler Pacifica is here to stay. The best part? There's no room for judgmental high-school acquaintances. 
Come by and check out the new 
2017 Chrysler Pacifica, loaded with:
·   UCONNECT® THEATER
·         Hybrid Innovation
·         Eight Passenger Seating with STOW 'N GO®
·         Advanced Safety and Security Features
·         Hands-Free Sliding Doors and Liftgate