2016 RAM Promaster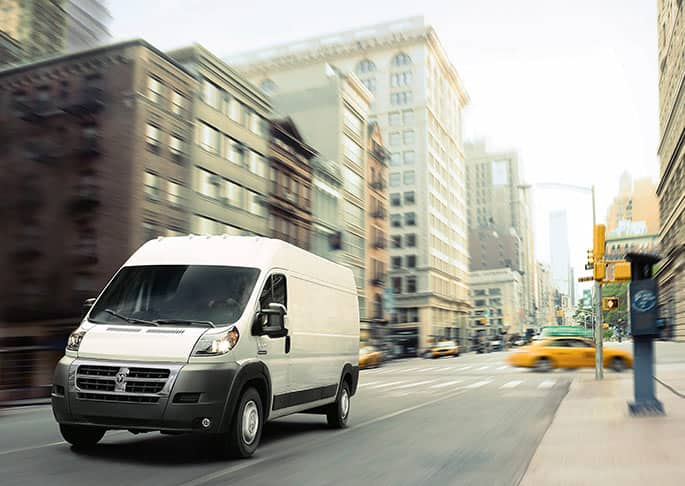 Inventory
Get Financing
Service
Find Parts
Contact Us
New 2016 RAM Promaster at Kolosso for Appleton, WI
The new 2016 RAM 1500 Promaster is a great vehicle for commercial use and comes with many mix and match options.  The vehicle is front wheel drive which allows it to ride very low to the ground and decrease the step in height to the lowest within the segment.  This is good because it is easier for people to get into the vehicle and then when they are in it has the highest ceiling in the segment also.  If you aren't moving people then you'll still be happy as it gives you more room for cargo or tools.  The options are endless when it comes to this RAM product.  RAM designers have used valuable input from customers to help design this year's model and have integrated changes over time that have really helped evolve this into a more useable transportation vehicle all-around.  There is also the ability to have side windows and choices for a stylish chrome grille.  There are also many other best -in-class awards that the Promaster 1500 takes home and these include capacity for cargo, fuel efficiency, payload and radius of turning ability.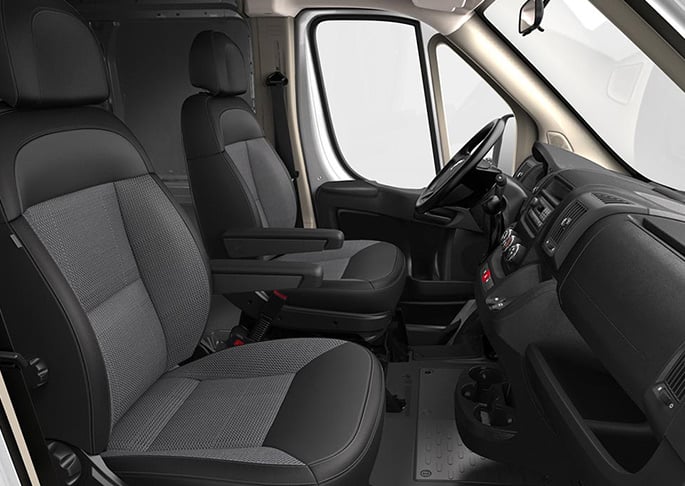 Under the Promaster's Hood
Coming standard on the Promaster is a 3.6-liter V6 from Pentastar and a 3.0-liter EcoDiesel inline four-cylinder engine. These motors come with a six-speed automatic transmission and a electronically controlled six-speed automated manual which is best in class fuel economy.  The 3.6 is rated at 280 horsepower with torque at 260 lb.-ft. There are also special tow packages available that help with hauling with minimizing fuel consumption.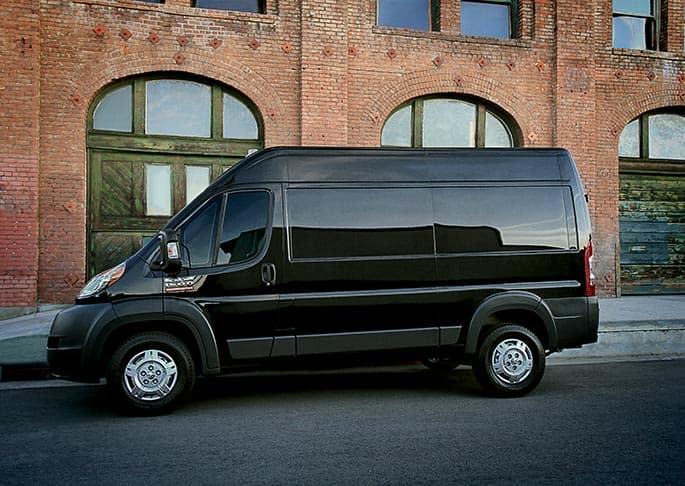 Design of RAM Promaster
The front of the ProMaster is highly recognizable.  What makes it that way is sharp looking bodylines, a wraparound bumper and twin-headlight clusters. The ProMaster comes full of comforts, ergonomic designs and much more.  Some features are an adjustable steering wheel and the driver's seat can also come with suspension that modulates based on the weight of the driver.  Passenger seat can either be benches or single units.  If there are benches in the front seat than three people can comfortably sit there.  The ProMaster can move cargo easily by tying restraints down to the inside bottom of the vehicle and comes with a 1,000-lb. rating.  One more awesome thing about driving a large truck with broad sides is that it has the ability to act as a large rolling billboard if you so choose.  There is plenty of area to advertise for your business, any kind of concept wrap or other advertising ideas.
Where is Kolosso Chrysler Dodge Jeep Ram located?
We are located at: 2701 W College Ave Appleton, WI 54914 Click for Directions
Do you have specials at the dealership?
Yes we would love to help you find a great deal! Please take a look at our Specials Page!.Click for Specials
Can I have my vehicle serviced at your dealership?
Yes we are a full service dealership with the ability to handle all of your vehicle's needs. Click to Schedule Service
Conclusions
Commercial vehicles, work trucks and other RAM vehicles are all heavily scrutinized by RAM engineers and designers. This vehicle has more than 35 features to help increase safety and to give peace of mind to both drivers and passengers alike whether on the job or not. Electronic stability control, rear park assist with warnings sounds and a Parkview backup camera are some of the equipment coming on the vehicle. Operating a large van can already be quite a responsibility and the extra technology assisting the operator is always a good thing.  Safety and security equipment make it easier to use this van is all sorts of ways.  The Promaster is available for all of your needs today. Stop in at the dealership or give us a call today.
Read Our Other Reviews
2017 Chrysler Pacifica
2016 Jeep Cherokee
2016 RAM 1500