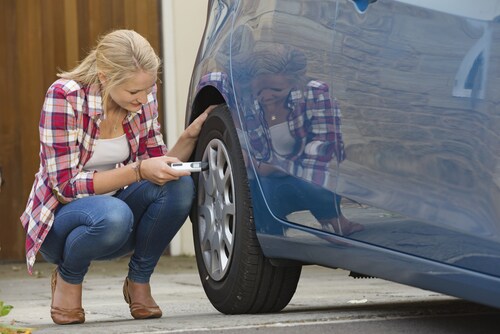 Proper tire maintenance is just as important as an oil change. Keeping your tires rotated regularly and changed will help keep you safe while on the road. Checking your tire's tread whenever you fill up for gas or go for an oil change will help you determine when you need new tires. We've put together some of the best tips to help you avoid a flat tire with proper tire maintenance.
Following these simple tips will help keep you, your car, and others safe while driving. It's imperative to take care of your tires as it ensures driving stability and safety for everyone involved. Let's take a look at what it takes.
Choose your tires carefully.
Tire selection should be based on the correct size recommended for the vehicle and its load recommendations, and not on initial price or appearance. You should consult with an expert tire or automobile dealer about selecting the proper tire for your personal driving patterns.
Buy a tire gauge and keep it handy in your car at all times.
It will inform you if you need to add more air to your tires. You can find them at any automotive retailer or supply store. Many gasoline stations also carry them for your convenience.
Have your tire balance checked periodically.
An unbalanced tire and wheel assembly may result in irregular wear. You can have this done whenever you change your oil and have your tires rotated.
Check your tire pressure at least once per month, and especially before a long trip.  
Use the manufacturer's recommended air pressure listed on the sticker of your vehicle's door jamb or owner's manual as a guide. Always check the pressure of your tires when they are cool or cold. Driving heats up tires, making readings incorrect. Don't under inflate or over inflate your tires if you have determined that filling them up is necessary. This can cause a blowout, flat tire, handling and even stopping problems.
Check your vehicle alignment periodically.
It's especially important to have an automotive professional check your alignment if you notice your vehicle is pulling to one side when you're driving.
Rotate your tires every 6,000 miles.
If your tires show uneven wear, ask your automotive service professional to check for and correct any misalignment, imbalance or other mechanical problem involved before rotation.
Inspect and measure your tire tread.
You can do this yourself by placing a penny in the tread groove and if you can see the top of Lincoln's head, then it is time to replace your tires.
Check the tire sidewalls.
You should check for any nails, rocks, bulges, gouges, tears, rips, etc. If you think you see a bulge, take the car to a tire dealer immediately.
Make sure you do not overload your vehicle.
Overloading your vehicle can create excessive heat inside your tires. An overloaded vehicle puts stress on tires that can cause damage to tires and lead to tire failure. Check the manufacturer's load recommendation, which can be found on the vehicle information placard inside the driver's side door post, or in the vehicle owner's manual.